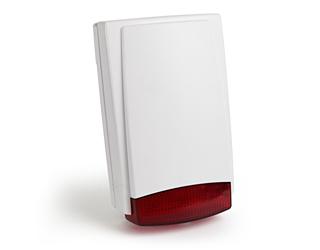 | | | |
| --- | --- | --- |
| | IM-306 | |
*Dual tamper protection from upper cover removal or removal of the bell box. Optional protection of screw loose.
*Equipped with internal 7.2V rechargeable battery, SAB mode is available. Optional VRLA battery room is provided.
*Red and green status LED indications for easy status confirmation. The indications are as follows:
**Red and green LEDs flash alternately means system in standby mode.
**Green LED off means no backup battery power supply, Red LED off means no main power supply.
**Red and green LEDs flashing twice quickly means siren trigger.
**When main power is cut or tamper, red and green LEDs flash quickly, LED and the LEDS will work simultaneous.
*Piercing siren sound with 12PCS super light LED . Trigger signals for sounders and strobe are separate and both negative and positive inputs are compatible.
*4 kinds of sounder timer selections. The default selection is 3 minutes. 1 minute, 15 minutes, and continuous sound are selectable with dip switch.
*External or Internal tamper trigger is selectable. Real outdoor tamper switch provided.
Specifications
| | |
| --- | --- |
| *Operating Voltage: | 13.5VDC |
| *Current Consumption Standby: | 20mA at 13.5VDC |
| *Backup Battery: | 7.2V 500mA rechargeable |
| *Siren Current: | 220mA at 12Vdc |
| *Flash Current: | 180mA at 12Vdc |
| *Siren Output: | 110db |
| *Flash Rate: | 90 times per minute. |
| *Timers: | 1 min, 3 min, 15 min, continuous |
| *Tamper Trigger: | INT/EXT selectable |
| *Operating Temperature: | -25°C to +70°C |
| *Housing: | PC with UV Resistant different housing colors |
| *Lens: | Blue, Red, Orange color are selected |
| *Dimensions (L X W X H): | 260mm X 159mm X 75mm |
| *Weight: | 650g |